Dates:  We are in the process of changing the dates with the Marriott to August 28-30, 2020.  We do not have the link for making a Marriott room reservation at the special IBH rate, but will post it as soon as it becomes available.
Friday check-in 7:45am; Symposium 8:30am to 5:00pm
Satureday 8:30am to 5:00pm
Sunday 8:30am to 4:45pm
General Information
To register for the Symposium by phone call 505-767-8030
OR
Download and print a registration form to register by mail or fax.
Early Bird Registration Savings for IBH Members:
Register by June 5, and your Symposium is

only $275.00!

Register by July 18, and your Symposium is only $325.00.
Register July 19 or later, and the Symposium is $375.00.
By attending the 2019 Symposium you will satisfy the 2-year CEU requirement for recertification.
Non-IBH Members Are Welcome
$450.00 (no discounts available)
_______________________________________________________________
Hotel Reservations
Albuquerque Marriott Pyramid North
5151 San Francisco NE
Albuquerque, NM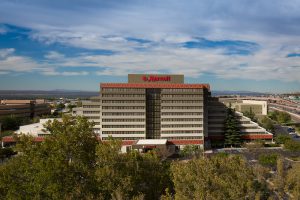 Room reservations at the special IBH Symposium rate of $104.00 per night, can ONLY be made online, through the IBH-designated Marriott web address.  Click Here To Book Your Room
Rates cannot be changed upon check-in or at check-out times for guests who fail to use the link above to make their reservations.
Travel
We recommend that you arrive on Thursday, August 27, because check-in begins at 7:45am Friday, August 28.
The first session begins Friday at 8:30 a.m. sharp!  The Sunday session ends at 4:45 p.m.
Make your travel plans accordingly.